What's being scattered?
Cultivating Seeds of Faith is built upon an intentionally planned framework to teach middle schoolers who God is, His great love for us, and how to trust and obey Him in real-life situations.
Encompassing 6th through 8th grades, this three-year curriculum instructs students in the fundamental elements of Christianity while developing their ability to think critically about our world using a Bible-centered approach.
Our middle schoolers benefit from the program by adopting a biblical worldview during this critical stage of development. They will be well equipped to actively engage in their high school ministries in the future.
How it's scattered matters!
Scatter What Matter lessons are arranged to promote Biblical literacy, including how to navigate, read, and think critically about Scripture. Much of the content is built in multi-media formats, which gets the students mentally stimulated well beyond what is possible with lecture-style teaching.
A PowerPoint presentation is included with each lesson to draw in those who are visual learners and ignite the imagination, which studies show improves memory activation. Most slides contain primarily pictures to ensure that they augment the teacher and minimize distractions.
The lesson document includes references to indicate which slide corresponds to each part of the lesson. These components are designed to enhance the lesson and provide flexibility given different classroom set ups and technology access.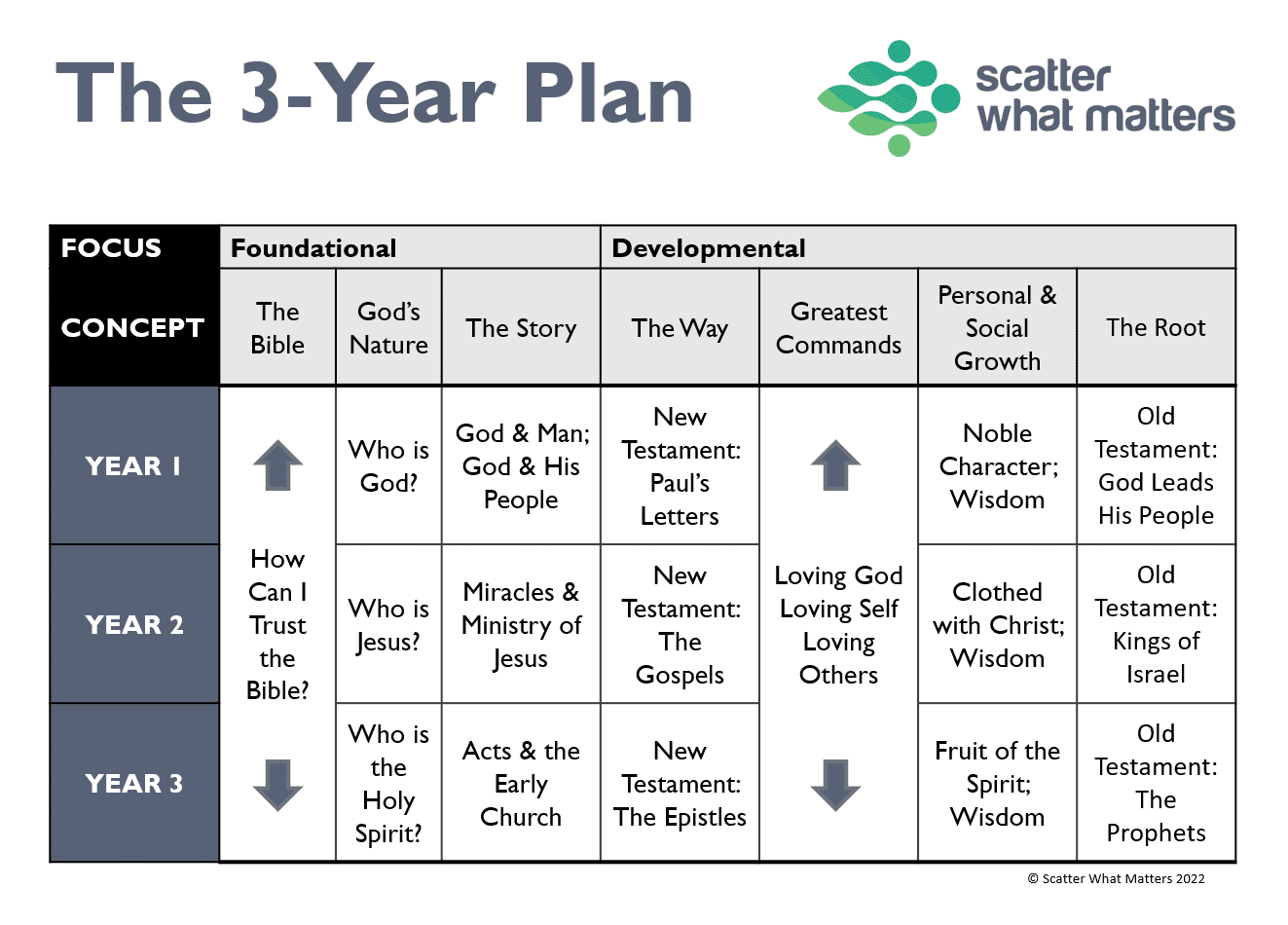 The Bible
What is the Bible and how can we trust what it says?
God's Nature
Who are the three persons of the Trinity, and what is their nature?
The Story
How is the crimson thread of salvation woven throughout the entire Bible?
The Way
What does it mean to think and act in accordance with what Scripture teaches us?
Greatest Commands
How should we relate to God, take care of ourselves, and love others?
Personal & Social Growth
How can we grow in areas like wisdom, gratitude, humility, conviction, patience, and self-control? How can we develop interpersonal skills such as responding to peer pressure, serving others, and forgiving?
The Root
How does Christianity connect with the Israelite nation described in the Bible?
How does it work together?
Each year introduces one of the persons of the Trinity and then goes into some of the key stories in the Bible that help us to better understand them and how they interact with mankind. The rest of the year is thematically arranged around the same person of the Godhead. In the table on "The Plan" tab, observe how an item under "God's Nature" (e.g., Jesus) connects to "The Story" (e.g., miracles & ministry of Jesus), "The Way" (e.g., the gospels), "Personal & Social Growth" (e.g., clothed with Christ), and "The Root" (e.g., kings preceding King Jesus).